An expository essay. Hm-m, sounds incredibly complicated. I`ve got to warn you in advance that this post, which you`re about to read, will be nothing like an expository essay. Of course, we`ll have lots of facts here for you and useful information, but it definitely won`t be so perfectly structured and logical.
However, it will be more fun, so join in! By the way, if you haven`t noticed yet, we`ve already started telling you about the main characteristics of an expository essay. Did you miss that? Just get a few sentences back and you`ll catch up with the basics.
So, the motto of this type of writing is facts. Many valid facts, their analysis, and eventually a great essay, which will allow your reader to get the whole point of that essay. Indeed, it seems not so easy at all. Therefore, you`re definitely going to need some help. And guess who is going to provide it to you? That`s right – the team of WeDoHomework.net!
Fight to the Death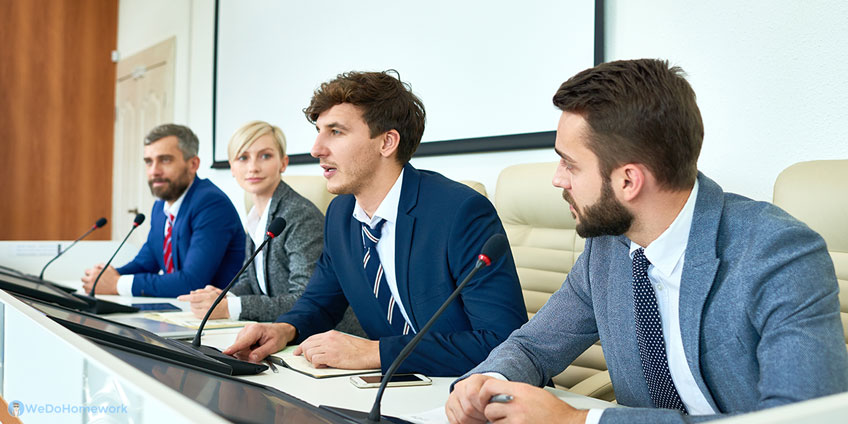 Don`t take it literally. Of course, you shouldn`t, you'll just need a little explanation here.
Speaking of explanation, it`s what an expository essay is all about. You explain a topic and are trying to convince readers that your thesis statement is rightful. It`s better to take this essay as a debate.
Did you go in for a debate club back at school? Well, you should have. What if one day you`ll decide to become a president? Or you`ll have to write an expository essay? You never know what life has prepared for you.
So, you`ve got to come up with strong arguments which will support your point of view on a serious topic. Imagine that you have an opponent and you need to be really logical and persuasive in order to prove your rightness.
It basically goes like this: defend your position and disprove the opposition. But you have to think this battle through before you actually start writing, even before you get to the research part.
By the way, you should base your research on reader`s questions. No, you don`t have to come up with a Facebook poll in order to find out what area of microbiology they might be interested in. Just become a reader yourself.
What are the first questions that come to your mind? Some general information to get familiar with the topic, and then you`d switch to something more specific, right? Just remember that somebody will actually have to read your work, so your task is to make it logical, consistent, and interesting.
So Many Variations
You must have written a couple or two expository essays before, but you probably had no idea what those were. What is more, they have way too many variations you also might not know about. Professors may not even clarify what kind of essay he/she expects you to submit, so you have to figure it out for yourself based on the topic of your work.
Here`s the list of certain variations.
A descriptive essay requires (that`s like an Oscar winner announcement intrigue) a description. In this paper, you`re supposed to give a detailed bright story which will depict either a place, or an experience, or a person. If you`ve got a choice, you`d better to write about a person. There are many biographical facts that you may include in your essay, so it would have more documentary vibes.
A comparison essay doesn`t need much explanation, I guess. You simply take two or more things, phenomena, situations, or just people, and start comparing those. For this type of paper, you need solid facts, statistical data, science-based sources, and a bit of a writing talent.
You may try to find the similarities or the differences. For example, if you need to compare the performance of two American presidents, you can start with their election campaign, teams of professionals, steps they took in economy, medicine, international relations, and so on. You need the ground your comparison will be based on.
Problem-solution essay. Well, that`s a tricky one because sometimes you just need to analyze all possible solutions of a certain important problem, and sometimes you need to come up with your own answers. The latter will take so much more work. However, it will be much more interesting and challenging. Usually, you`ll have to write about the field that you`re well acquainted with. If you`re an ecologist, you`ll probably be asked to come up with your own solution for the issue of global warming. That's a lot of pressure, actually!
There are so many factors you have to take into consideration. You need to learn the analysis of a given topic conducted by different scientists, make your own conclusions based on the data you`ve collected.
Who knows, maybe, your solution will be a real lifesaver? Now when you know the most important basics of the art of writing an expository essay, you`re good to go. But in case you get lost in some details, you should check out this article.