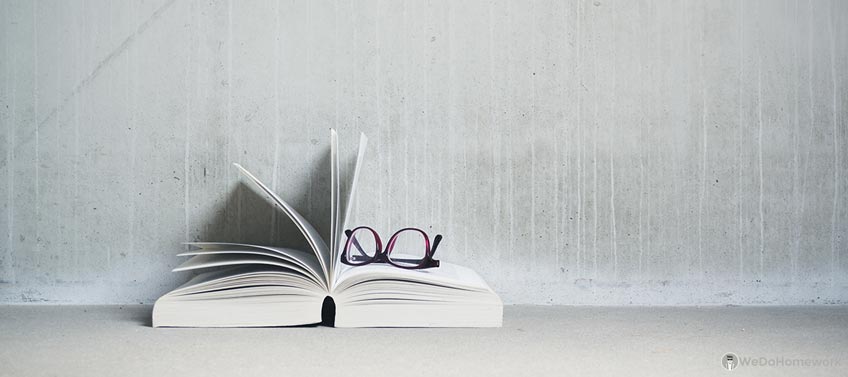 No, no, it's not about something like grey magic or witchcraft. It isn't half-forbidden or strictly censored literature. Also, it doesn't deal with such books as James' Fifty Shades of Grey or Wilde's The Picture of Dorian Grey. No, it's not connected with Grey's Anatomy TV series. So, what on earth is it?
Actually, it's quite a serious and useful thing, especially for college and university students, who are often involved in different research projects or assigned various college papers.
Definition of the Term "Grey Literature": See It Is All as Clear as Day
Although the very concept was coined in 1970s, what is known as "grey literature" nowadays has existed probably since those old times when the first European universities began to store manuscripts and books and to maintain libraries. However, the first definitions of grey literature covered rather economic papers or government publications, but not collections of academic works written by scientists, university professors or students.
The term was adopted by Charles P. Auger in his book Information Sources of Grey Literature in 1989. But actually, it evolved from the term "reports literature" which he first introduced in the book Use of Reports Literature in 1975. Yet, both Auger's terms included just various types of documents and reports.
In 1997, at the 3rd International Conference of Grey Literature (yes, three conferences were dedicated to this issue) it was specified that grey literature should be referred to as different kinds of academic, business, government and industry publications which are not controlled by any commercial publishing house.
Finally, in 2010 a new and more complete definition was proposed: all publications protected by the rights of intellectual property as well as produced by and/or collected in bodies whose primary activity or function isn't publishing can be considered grey literature.
Simply put, this is everything you cannot purchase in physical or online book stores. Besides, even non-published works can be also referred to as grey literature.
Still, What Does This "Everything" Cover?
Now let's make out which particular types of publications aren't controlled by state or private commercial publishers. We're going to group them into several categories, so you can make sure that grey literature is what you personally use every day.
Academia

Among these works you can find scientific articles, academic conference proceedings, theses, dissertations, research and laboratory reports, statistical data, different types of surveys, etc.

Technology and Medicine

Here you can choose from technical documentation, including instructions, manuals, reports, plus technical standards, patents, etc.

Government

Even if you aren't a Law student, you definitely have an idea of some government reports and statistics, policies and regulations, debates and many other types of papers.

Business and Commerce

As you've already guessed, these are business documents regarding business operations, plans and goals, accounting, services, and so on. There can also be online newsletters or press-releases.

Entertainment

If you're currently running a blog or have ever read one, you must have a good idea about online entertaining grey literature. Yes, your favorite fan fiction source also counts. As long as any publishing house finds out about it, it can be easily considered grey.
When and Why You Need It
As you now have a clearer understanding of grey publications, let's move to their more pragmatic features. Here we're going to orientate more towards academic purposes of its use. But generally grey literature, as well as any other kind of literature, has a lot more functions, which you can identify yourself, basing on our following ideas.
As this is actually a great treasury of valuable and sometimes truly priceless books, scientific journals, research data and many other nice things, every time you're writing your essays or poring over another thesis chapter, you are supposed to look for and use grey literature.
In case you're required to refer to sources in several different languages (for example, English and Spanish), you can easily find them via the whole range of special online databases where multilingual materials are stored. The access to them is usually free of charge, which is incredibly convenient for students.
Speaking about non-academic grey publications, such as policies, laws or some big companies' business plans, you can cite them confidently and include the source to your list of references easily.
Where and How to Look for Grey Literature
Of course, Google is your first helper. Still, you should know what to ask it about. So, let's check the following list of the most effective requests:
library catalogs of educational or scientific institutions you'd like to refer to;
websites of organizations, corporations, government bodies whose documents you're searching for;
keywords relevant for the topic of your paper or research;
grey literature gateways (the most popular of them are listed below).
World's Biggest Online Grey Literature Catalogs
Here are 3 richest free online collections of grey publications. Don't hesitate to explore them as soon as you can!
WorldCat is rightfully acknowledged one of the best union catalogs. Founded in 1967, today it has the largest bibliographical database, storing the collections of more than 70,000 world's libraries. What's more, it's available in 13 languages.
Scopus features only English language, but it stores about 55 million of records and is very easy in navigation. Still, be aware that it's available only via online subscription.
Web of Science (or Web of Knowledge) provides easy search of citations. It supports 256 disciplines, features various formats and is claimed to contain more than 90 million records.